Balmoral runners arrive in Ethiopia - 24 November 2012
Balmoral trail race champions Robbie Simpson and Morgan Windram-Geddes have arrived safely in Ethiopia and are already reaping the benefits of this wonderful trip.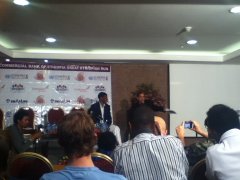 Here's what Morgan had to say:-

"We have arrived in Addis safe and sound and are having a truly amazing time.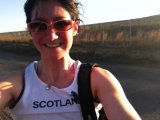 "The first day was a bit of sight seeing, a bit of resting and for me a little bit of yoga.

"Robbie joined a group of Kenyan and Norwegian athletes up in the Entoto mountains and then we were off to a press conference.

"We then made a trip to visit a local school. Some of the Norwegians raise money for it. What a wonderful experience.

"The I had a run in the hills behind Bole airport. It was my first run in almost two months and I managed five miles, with no pain. Robbie ran seven miles but the altitude is a real killer.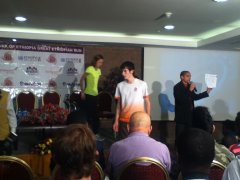 "Tomorrow is a children's race, then the big race on Sunday.

"This has truly been an amazing opportunity and I am ever so grateful to Runbalmoral for giving me the chance of a lifetime."