Robbie and Morgan meet Haile - 26 November 2012
Balmoral trail race champions Robbie Simpson (Deeside Runners) and Morgan Windram-Geddes (Fife AC) were thrilled to be invited to the home of Haile Gebreselasie after competing in the Great Ethiopian 10K run on Sunday (25th November).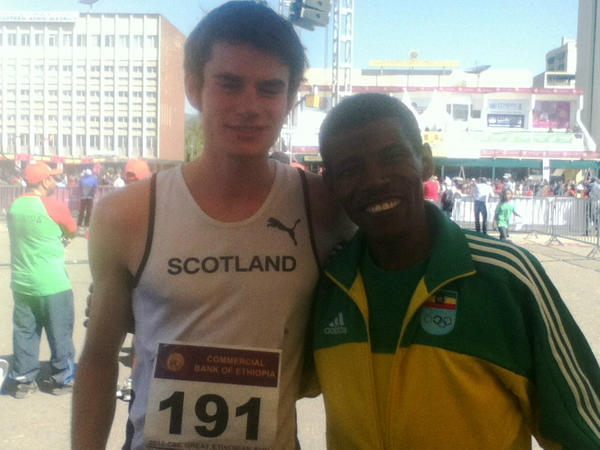 Gebreselassie is widely acknowledged to be the world's greatest distance runner and he is a legendary figure in Ethiopia.
He won two Olympic and four world 10,000m titles during a glittering career during which he also collected four world indoor gold medals and the world half marathon title.He also set 27 world records.
Robbie and Morgan earned the exciting trip to Africa by winning the men's and women's titles in the Petrofac 15 mile Challenge race at Balmoral in April.
RunBalmoral organisers and sponsors offered this amazing prize to the top man and woman as a means of providing Scottish athletes with the chance to experience top class competition overseas.
Dundee-based Morgan travelled to Africa thinking she wouldn't be able to compete as she hadn't been able to train for a number of weeks after sustaining a bad injury after falling off her bike.
But she was so inspired by the occasion that she decided to give it a go and surpassed her expectations.
She said:"It was spectacular. The energy, excitement, happiness and love of the people were overwhelming.
"The crowds soared, rushed, sang and danced..... and so did many of the runners.
"Robbie ran with the elites and his time was somewhere in the vicinity of 34 minutes.
"I clocked just over 41 minutes...having never thought I'd even start the run....I didn't get an official time as I did not want to run with the elites, so I just ran with the masses.
"There was 'proper' post race coffee in beautiful Ethiopian tea cups afterwards and we had a wonderful invitation for lunch at Haile's house!!
"I almost fainted...what an amazing humble man he is...truly wonderful. He has a special smile that exudes happiness, strength and giving.
"Robbie and I went for a post race, post run lunch behind Haile's house, in the mountains. It was wonderful."